CALL FOR ENTRIESMiddle East: What Cinema Can Do
has now begun to prepare its sixth edition to be held from November 29 to December 8, 2013 at the same venue, Les 3 Luxembourg in the Latin quarters in Paris.
Our call of entries is open to all filmmakers: shorts, fiction features, documentary features and TV formats that bring to the screen the issues, stories and life in the Middle East. Please contact us to find out how to submit your film.
Stéphane Hessel, Forever With Us
Stephane Hessel was someone who could truly be called "a beautiful person", generous and radiant.He was not immortal; however, even at 95 he wasn't supposed to take his leave. We expected him always to be with us, and thus he will remain, present among us in each thought we direct his way.
He has been a permanent face at the venue Les 3 Luxembourg since 2004 attending the event "What Cinema Can Do." I remember back to the 2011 festival, for which we scheduled two charming film portraits and he was invited as our guest of honor.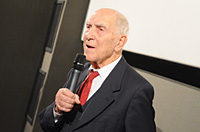 The day before the screening, his wife Christiane phoned me to request that the discussion after the film be brief, since Stephane had just come back from Prague and was quite tired. Upon his arrival in front of the cinema Les 3 Luxembourg, rue Monsieur le Prince, he was greeted by a round of applause. Inside the theater, the clapping built to an even greater crescendo.


At the end of the film when Stephane came up front for one of our usual film+debate evening showings, I was about to ask the audience to keep their questions brief when Stephane seized the mic and said , all smiles , "I warn you, I am not a man of few words"…and spent a mesmerizing hour of lively discussion with a delighted audience.

Stephane, my friend, my comrade, who supported us through all these years, we invite you to join us at the next festival in December 2013 as it is not farewell that the entire festival team wants to say, but rather give you an even greater exaltation in the spirit of an everlasting friendship and humble respect of your life's work.
Janine Euvrard
Founder of "What Cinema Can Do"